La Biennale de la Mine 2011 est la manifestation culturelle qui se déroule en alternance entre le pays decazevillois (Aveyron) et le pays carmausin (Tarn) et qui rassemble durant un week-end, collectionneurs, passionnés d'histoire et de découverte et le grand public intéressé par le patrimoine des mines.
Organisation autour de FOYER/ FOGAL RURAL CAGNAC St Sernin.
The 2011 Biennale Coal Mining is the cultural event which takes place alternately in Decazeville (France, Aveyron), and Carmaux Cagnac (France, Tarn), history of collieries, mining and minerals, Mining Artefacts deal...
La Biennala de la Mina de 2011 es la manifestacion culturala que se debana en alternança entre lo païs de La Sala (Decazeville, Avairon) e lo païs de Caramauç (Tarn) e que recampa, per una dimenjada, colleccionaires, apassionats d'istòria e de descobèrtas e lo grand public interessat pel patrimòni de las minas. Organisacion a l'entorn del FOGAL RURAL CANHAC St Sarnin
La Bienal de la Mina del 2011 es un encuentro cultural que se lleva a cabo en Francia, alternativamente entre la región de Decazeville y de Carmaux, y que reúne durante un fin de semana a coleccionistas, apasionados de historia y descubrimiento y al público en general interesado en el patrimonio de las minas. Organización alrededor del FOYER/ FOGAL RURAL CAGNAC St Sernin.


Elle s'inscrit dans la lignée d'une politique culturelle accessible à tous.
Elle se déroule en 2011 à Cagnac-les-Mines (Tarn)
Elle se compose :
- d'une bourse d'échange entre collectionneurs d'objets de mine puis ouverture au public
- des expositions thématiques sur la mine.
- de conférences sur le thème de la mine .
It joins in the lineage of a cultural policy accessible to everyone.
It takes place on Cagnac-les-Mines (Tarn) and is composed of
- a grant of exchange between collectors of mining objects, then opening to the public
- Thematic exhibitions about mining.
- Conferences and debates about mining.
S'inscriu dins la seguida d'una politica culturala concebuda per totes. Se debana en 2011 a Canhac de las Minas (Tarn). Se compausa: - d'una borsa d'escambis entre colleccionaires d'objèctes de mina puèi dobertura al public - d'exposicions tematicas sus la mina - de conférencias sul tèma de la mina
Se inscribe en la continuación de una política cultural al alcance de todos. Se llevará a cabo en 2011 en la ciudad de Cagnac-les-Mines (Tarn, Francia) Se compone: - de una bolsa de intercambios entre coleccionistas de objetos de la mina y más tarde apertura al público - de exposiciones temáticas sobre la mina. - de conferencias sobre el tema de la mina.
Les objectifs de la Biennale 2011 - The objectives of the Biennale event 2011
Elle a pour objectif la sauvegarde de la mémoire ouvrière du bassin Albi Carmaux et la valorisation du patrimoine des mines.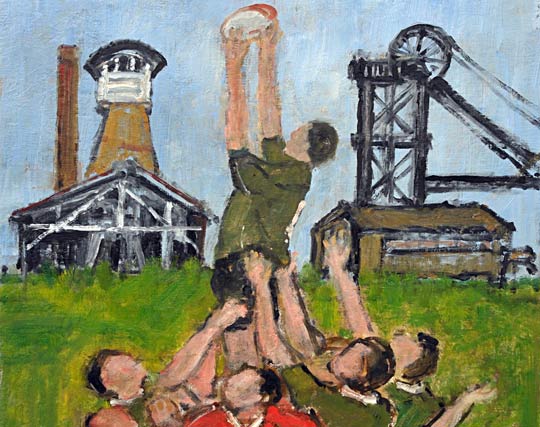 Huile sur toile, oil on canvas, Alex Tomaszyk, 2011

The main objective is the protection of the labor memory of the bridge Albi Carmaux and the development of the heritage of the coal mines.
Los objectius de la Biennala 2011 A per objectiu la salvagarda de la memòria obrièra de la conca Albi-Caramauç e la valorisacion del patrimòni de las minas.
Los objetivos de la Bienal 2011 Tiene por objetivo la preservación de la memoria obrera de la cuenca minera de Albi-Carmaux y la valorización del patrimonio de las minas.
Grâce à un partenariat entre associations interdépartementales, cette manifestation se déroule en alternance dans les anciens bassins houillers de l'Aveyron et du Tarn.
Thanks to a partnership between interdepartmental associations, this event takes place in the former coal basin of Aveyron and Tarn.
Gràcias a un partenariat entre associacions inter-departamentalas, aquela manifestacion se debana en alternança dins las ancianas concas olhèras d' Avairon e de Tarn.
Con un intercambio entre asociaciones interdepartamentales, esta actuación se desarrolla en Francia, alternativamente en las antiguas cuencas hulleras del Aveyron y del Tarn.
Cette année 2011, l'Association Foyer Rural de Cagnac-Saint-Sernin coordonne l'organisation de la biennale 2011 en collaboration avec d'autres associations locales :
In 2011, the Association « Fogal Rural of Cagnac-Saint-Sernin » coordinates the organization of the Biennale event 2009 in collaboration with local associations.
Aqueste an 2011, l'associacion Fogal Rural de Canhac/ Sant-Sarnin coordina l'organisacion de la Biennala 2011 en collaboracion amb d'autras associacions localas.
Este año 2011, la asociación Foyer Rural de Cagnac/Saint-Sernin coordina la organización de la Bienal 2011 en colaboración con otras asociaciones locales.

Pour nous contacter / To contact us / Per nos contactar/ Para ponerse en contacto:
biennalemine81@free.fr